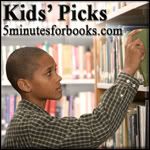 Since Timothy started Kindergarten, 2 things have happened:

His ability to read increases every day!
His desire to read increases every day!

We ordered the
Nick Jr. Book Club from Scholastic
several years ago (as I know tons of people did since I've seen those little backpacks everywhere). I don't think we finished the series, but we do have around 10 of them.
About a week ago, Timothy slept in so late one morning that Dan had to go wake him up. Timothy was asleep with these books all around him! He had pulled each one of them off his shelf and read them for who knows how long. Dan asked him how he was able to do it, and Timothy answered nonchalantly, "I have my nightlight".
For more Kids' Picks, go to
5 Minutes for Books
.