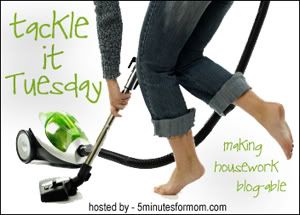 I've been putting it off long enough. In multiple places all over my house, I've had bags and boxes of clothes too small for the kids. I'm so sick of it! I pulled as many as I can find (sadly, I'm sure more will pop up later), and laid them in the middle of the floor.

When I was done, I had 6 grocery bags worth to take to the resale shop!

And three more groups of clothes: the box on the left is for a battered woman's shelter, the box on the right is to mail to my friend
Sheila
who has sent me tons of clothes for Samantha, and 1 trashbag of stuff for my MOPS share table.
NINE containers of clothes leaving my house tomorrow! I'm so excited! I'm taking electronic toys to the resale shop as well. I'll let you know how it goes...kind of Tackle It Tuesday Part II.

Funny note: This is my 1st time to participate in this carnival, which makes this the second day in a row! Does anyone know of any carnivals on Thursday? I could try to do this all week!
Find out what other people are tackling over at
5 Minutes For Mom
!
Update: I received $23 from the resale shop, which was a bummer. But my goal was to get the clothes out of my house, so I drove by Goodwill on the way home. Not going to re-tackle!